Roasted Green Tomato Salsa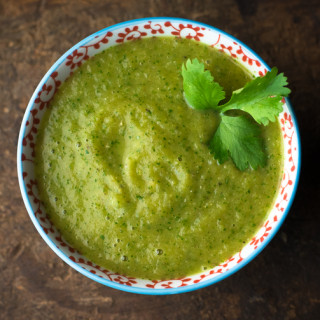 5 medium green tomatoes, halved
2 garlic cloves
2 jalapenos, halved and seeds removed
1 medium onion, peeled and quartered
2 tablespoons olive oil
½ bunch of fresh cilantro
2 limes, juiced
¼ teaspoon sugar
salt
pepper
Heat the oven at 475 degrees and cover a large baking sheet with parchment paper.
Place the tomatoes, garlic, jalapenos, and onion on the lined baking sheet. Drizzle with olive oil then sprinkle with salt and pepper. Roast in the preheated oven for about 15-20 minutes, or until the veggies are tender and slightly blistered.
Allow the veggies to cool slightly. In the bowl of a food processor, combine the roasted veggies with the juice of 2 limes, cilantro, sugar and generous amount of salt and pepper. Blend until mixture is smooth. Taste and add more salt if needed (we definitely did!).
Recipe by
Oakhurst Kitchen
at http://oakhurstkitchen.com/roasted-green-tomato-salsa/