Summer Veggie Tortilla Stack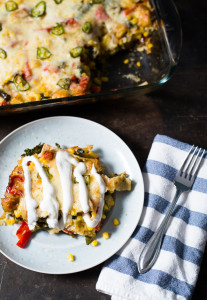 3 poblano peppers, sliced
2 red peppers, sliced
1 large onion, sliced
14 ounces baby yukon gold potatoes, quartered
1 tsp cumin
1 tsp coriander
salt and pepper
3 tablespoons, olive oil
3 cups green salsa, divided
corn tortillas, about 18
⅓ bunch of kale, chopped
12 ounces corn, boiled and cut off the cob or frozen and defrosted
3 cups shredded pepper jack cheese
1 jalapeno pepper, sliced
plain yogurt or sour cream, for topping
Preheat the oven to 400 degrees F.
In a large bowl, mIx the poblano peppers, red peppers, onion, and potatoes with the cumin, coriander, salt, pepper, and olive oil. Stir until veggies are coated with olive oil and spices.
Line 2 baking sheets with parchment paper. Spread the veggies onto the baking sheets in a single layer. Roast in the oven for about 30 minutes or until the veggies have started to soften and brown.
Remove roasted veggies from the oven and allow to cool slightly. Also turn the oven down to 350 degrees.
In a 9x13 casserole pan, add a cup of salsa. Spread evenly so it covers the entire bottom of the pan. Then add 6 corn tortillas to cover the salsa layer (they will overlap). Next sprinkle half of the chopped kale onto the tortillas. Then add a third of the roasted veggies, a third of the corn, and a third of the cheese.
Repeat all of Step 5.
Repeat all of Step 5 a final time, but leave out the kale this time. Top with the sliced jalapenos if you are looking for some added heat.
Cover with aluminum foil and bake for 15 minutes.
Remove the aluminum foil and finish baking for another 15 minutes or until the cheese is completed melted and starting to brown.
Serve with plain yogurt or sour cream drizzled on top.
Recipe by
Oakhurst Kitchen
at http://oakhurstkitchen.com/summer-veggie-tortilla-stack/