Sweet Potato & Fuji Apple Soup with Roasted Cauliflower & Bacon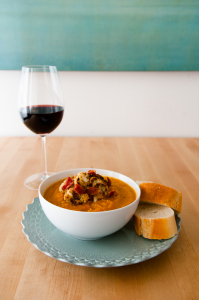 1 small cauliflower, divided into bite-sized florets
4 slices of applewood bacon
2 tablespoons olive oil
1 small yellow onion, sliced
2 cloves garlic, minced
1 small fuji apple, peeled and sliced
2 large sweet potatoes, peeled and sliced
1 teaspoon of cinnamon
4 cups vegetable broth
salt and pepper to taste
Pre-heat oven to 400 degrees. Place the cauliflower florets on a baking sheet lined with parchment paper. Drizzle with olive oil, then add salt and pepper. Bake for 35-40 minutes, tossing halfway through. When cauliflower is fork tender, remove from the oven and set aside.
While the cauliflower is roasting, cook the bacon slices in the large soup pot over medium heat. Once the bacon is crispy, remove from the pot and set aside.
Keep the stove on medium and add the onions to the bacon drippings remaining in the pan. Cook onions until softened and translucent, about 5 minutes.
Add the garlic and cook for one minute, until fragrant.
Add sliced apples, sweet potato and cinnamon and cook for 3 minutes more.
Add the vegetable broth and turn stove up to medium-high. Bring to a boil. Reduce flame to low and simmer, uncovered, until sweet potatoes and apples are softened, about 30 minutes. Remove pan from the heat and let rest for 10 minutes.
Blend the soup in the pot using an immersion blender. Once soup is blended smooth, serve soup into bowls and garnish with roasted cauliflower florets & crisp bacon crumbles.
Recipe by
Oakhurst Kitchen
at http://oakhurstkitchen.com/sweet-potato-fuji-apple-soup/