This Banana Rum Breakfast Cake is one heck of a way to start your day.  My mom taught me at a very early age that just because something is called cake, doesn't mean you can't eat it for breakfast. I remember growing up and having lemon poppy seed pound cake for breakfast pretty regularly. And just so you don't judge my mom too much, you should also know that I ate more than my fair share of vegetables too. But when I got to bite into that sweet breakfast cake,  I felt like the luckiest kid in the world.
The thing that this banana rum breakfast cake has going for it is that it's has those dark brown sugar and rum flavors that pair perfectly with coffee. And when I say perfectly you may think that I'm exaggerating, but seriously, they are a match made in heaven.  A glass of cold milk with this cake is kind of magical too – so you better watch out coffee – there's some fierce competition around here.
I've always loved banana muffins, especially when you find the ones without walnuts. I like walnuts and enjoy them on salads, in pasta dishes, even on brownies. But I don't want you anywhere near my banana treats.  So when I found this recipe I was pretty pumped that it didn't even suggest adding walnuts and instead used brown sugar and rum! Yes please.  I wanted to use this fabulous new bundt pan I found when we were antique shopping recently, so I adapted the recipe in order to create this gorgeous bundt cake. No regrets here.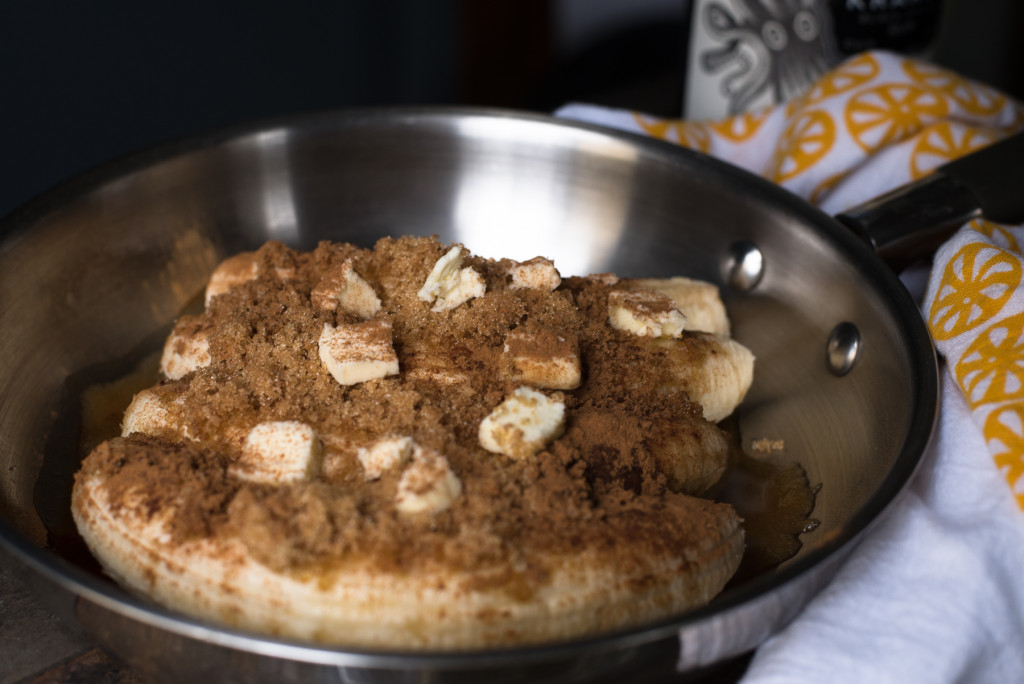 The first step of this recipe is super fun because you get to roast the bananas with all the gooey goodness of butter, brown sugar, rum and cinnamon. We let the ingredients caramelize in the oven while we keep working to prepare the batter.  I'll go ahead and warn you now that the smell of the bananas roasting in the oven is going to make your kitchen smell so amazing that you are barely going to be able to stand it.  But you can. Keep moving forward and finish the cake because the end result is totally worth it.

Once your bananas have roasted and cooled you can mash them and then add them to the other batter you've prepared. Then you simply add the combined mixture into your greased bundt pan.  Again the smells are going to be ridiculous and you probably will not be able to resist scraping what's left of this batter in your mixing bowl right into your mouth during cleanup. I can't judge you because I did it myself.

Once the cake has finished baking and cooled, remove it from the pan and let it cool some more on a wire rack. I didn't want to add too much more sweetness to the cake this time, so I made a small amount of glaze, basically just enough for the sugar to stick to the top.  The sugar may be optional for you, but it's certainly mandatory at our house. The raw sugar is so great that I try to make sure I get some in every bite. But if you prefer glaze over sugar, go crazy and triple the amount of glaze and leave off the sugar.  It's your cake and you're eating it for breakfast, so please make it the way you like it. And share with friends because they'll love you for it.
Banana Rum Breakfast Cake
Ingredients
For the Roasted Rum Bananas:
3 tablespoons butter, cubed and divided
4 bananas
½ cup brown sugar
3 tablespoons dark rum
¼ teaspoon cinnamon


For the Cake:
2 sticks butter, room temperature and cubed
2 cups brown sugar
4 eggs
⅓ cup milk + 2 tablespoons, divided
1 teaspoon vanilla
4 cups all-purpose flour
2 teaspoons baking soda
½ teaspoon cinnamon
½ cup powdered sugar
raw sugar, for sprinkling
Instructions
Preheat oven to 425 degrees F.
In the bottom of an oven-safe pot or pan, layer 2 tablespoons of butter, then bananas, then top with brown sugar, rum, cinnamon and an additional tablespoon of butter. Cook the bananas in the oven for 10 minutes, then flip the bananas over and cook for an additional 10 minutes or until the brown sugar is bubbly and caramelized. Remove from the oven and allow to cool. Mash the banana mixture together and set aside.
Reduce the oven temperature to 350 degrees F.
With an electric mixer, beat together the butter and brown sugar until creamy and well mixed, at least 3 minutes. Add in the eggs, one at a time, followed by the milk and the vanilla. Then add in the mashed banana mixture.
In a separate bowl, mix together the flour, baking soda, and cinnamon. Then add the dry mixture to the banana mixture, mixing until just incorporated.
Grease the bundt pan and add the batter. Bake for 55-60 minutes, until golden and a tooth pick comes out clean. Allow to cool on a wire rack for several minutes before removing from pan.
To make the glaze, whisk together the powdered sugar and 2 tablespoons of milk in a small bowl. (This makes a dainty amount of glaze. For those who like a more generous amount of glaze, feel free to double or even triple the amount.) Pour glaze evenly over the cake and then top with raw sugar.