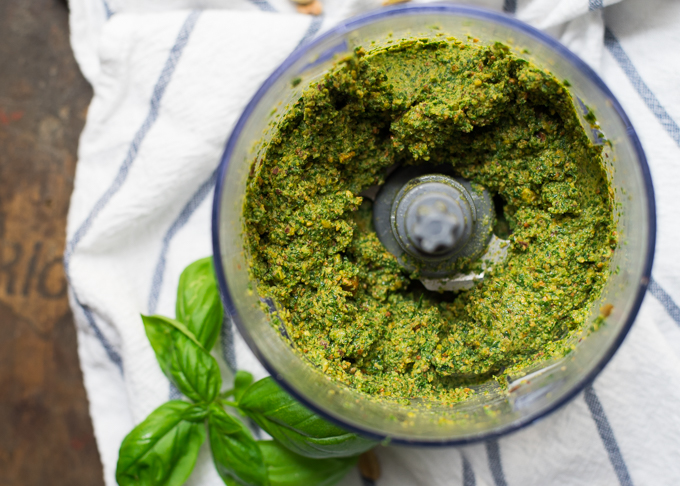 If you've ever thought about making homemade pesto, this Pistachio Kale Pesto recipe is just the right starter recipe for you.  Not too many ingredients but still packed with flavor!  I have played around with a few pesto recipes lately and this one truly stands out as the winner.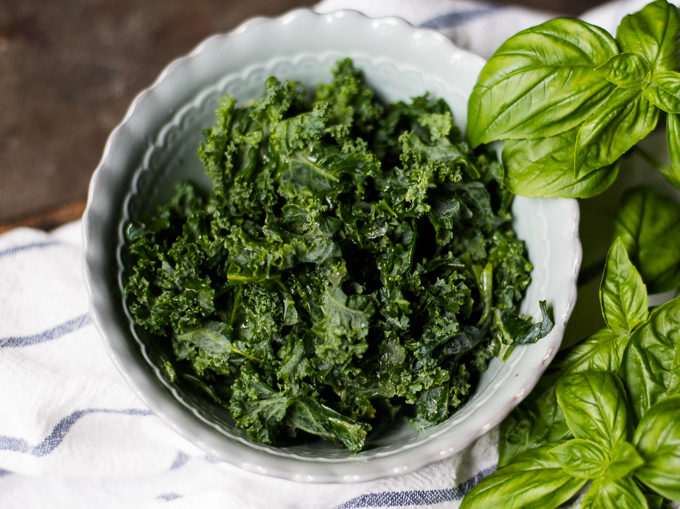 Most people think of a traditional pesto when they think about delicious Italian sauce. You know, the classic basil, garlic, pine nuts, olive oil, and Parmesan cheese version. But if we never played around with traditional recipes,  dinner  would become way too boring.  There are actually tons of pesto variations out there. Pesto is really just a simple equation of a green + a nut + garlic + olive oil + extras!

I've enjoyed making arugula pesto when I needed to use up a bunch of leftover arugula before. And the same can be true for kale. Sometimes you only need half a bunch of kale and sure you could freeze the rest for smoothies, but how much more fun is it to think about that kale magically becoming pesto before your eyes!
I like the flavor of kale a lot but sometimes it can be a little bitter, so I love how this recipe balances the kale with the brightness of basil. Roasted pistachios not only add texture but that earthy nuttiness as well. Finally, the lemon zest adds a pop of bright citrus flavor that you notice right away and appreciate!

Why do we test all these recipes and spend time finding the best pesto?  Maybe because we eat more pesto than I thought humanly possibly.  Josh would list pesto as one of his top favorite foods (along with Fritos and gin). He literally said yesterday, "I could eat pesto two times a day and be fine for months." I can sometimes get bored with traditional pesto though, so finding this interesting new spin re-energizes me and makes me excited to see all the different ways we can use it: from pasta, to grilled kebabs, to bruschetta. We're going to be doing some experimenting for sure.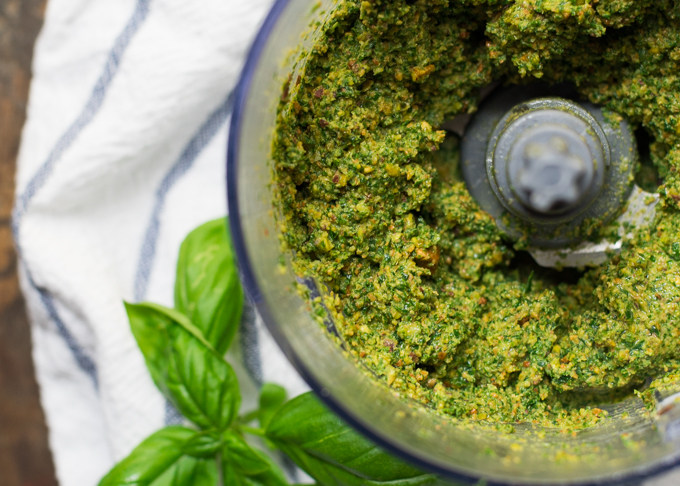 So try this recipe out and see how simple it can be.  This recipe makes a small enough amount that I was able to use my smaller food processor and didn't even have to wash the big guy. So don't be scared. Do a little blending and enjoy the freshest, tastiest pesto that you can also proudly say you made yourself.
Pistachio Kale Pesto
Ingredients
2 cups kale, chopped
½ cup basil leaves
1 garlic clove
½ cup pistachios, roasted and shelled
zest of 1 lemon
juice of 1 lemon (about 2 tablespoons)
⅓ cup olive oil, more if needed
salt and pepper, to taste
Instructions
In a small food processor, add the garlic clove and pulse until chopped. Then add the kale, basil, pistachios, lemon zest and lemon juice. Blend until smooth. Then while the food processor is going, slowly drizzle in the olive oil until desired consistency is reached.
Taste test and add salt and pepper according to your preference. (If your pistachios were salted, you'll need less salt.)