I find it hard to believe I just started making this Jalapeno Cilantro Hummus. The inspiration for the recipe came from the hummus I've been buying for years from the grocery store down the street. Looks like somebody finally got smart and decided to make her own version and it paid off.
Seriously, it's worth the few minutes it takes to whip up hummus at home in order to achieve the freshness and be able to tweak the flavors to your liking. It's also way cheaper. I make 3 times the amount of hummus for the same price as the one package I used to buy at the store.
Now that you're convinced to make your own hummus, let me talk to you a little bit about peppers. I find peppers, especially jalapeno peppers, tricky because the level of spiciness is not always predictable. The fresher the jalapeno the spicier it typically will be, but it's not always easy to tell how long that pepper has been sitting in the store before you purchase it. The tighter and smoother the skin of the pepper, the fresher it probably is.  Also, if you go to a farmer's market for your produce, you'll also have an easier time knowing how fresh your peppers are.
I'm assuming that you might be into spiciness if you are making this recipe. You can always do a little taste test before deciding how much jalapeno to add. It's important that you blend the jalapeno in the beginning with the garlic to ensure that the pieces get small enough.  While it would be great to be able to add more jalapeno after mixing all the ingredients, it is best to make the judgement call about the peppers in the beginning.  So be bold and add more peppers if in doubt.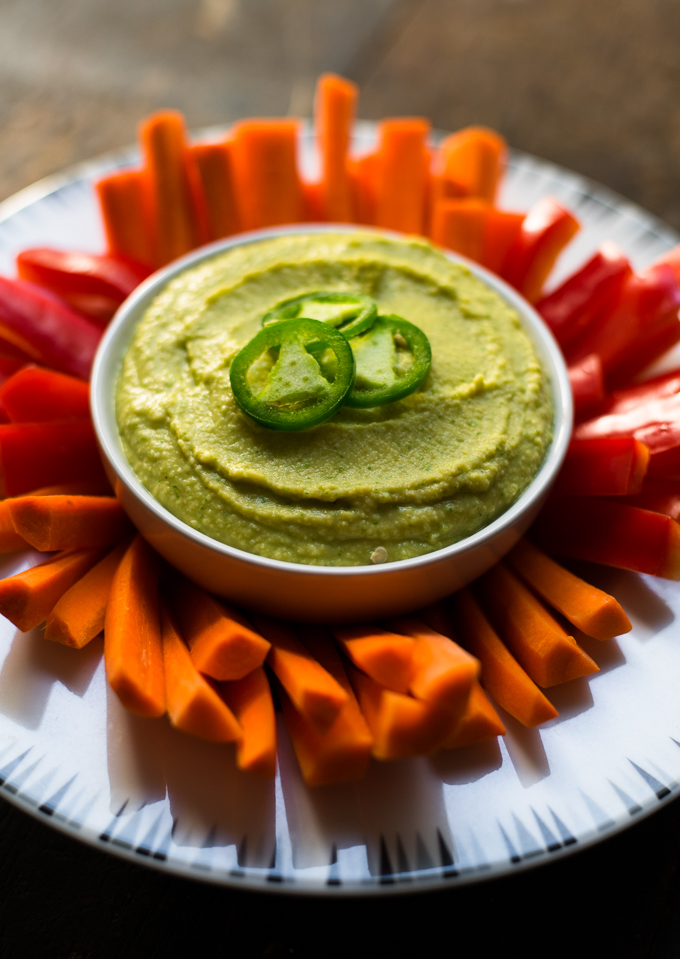 The cilantro is what gives this hummus the gorgeous green color.  I cannot say enough about how much I love the bright flavor of cilantro. I do not think there is an amount of cilantro I would consider too much cilantro. That being said, I recommend the 2 cups of cilantro for this recipe. It's enough to give the pop of flavor without overpowering the jalapeno spiciness. Feel free to add more if that's your preference. I'd be oh so jealous…
We served this hummus with sliced carrots and red peppers. Freshly baked pita, still warm from the oven is also a perfect way to devour this hummus. We hope you love it. Please let us know if you have any other favorite flavors you add to your homemade hummus. We are always up for hummus experimentation!
Jalapeno Cilantro Hummus
Ingredients
1-2 jalapenos, quartered and seeded
1 small garlic clove
2 cans of chickpeas, strained
2 cups of fresh cilantro
6-7 tablespoons olive oil
1 lemon, juiced
1 teaspoon salt
⅓-1/2 can of water
2 teaspoons tahini
Instructions
Place the jalapenos and garlic in a food processor and blend until well chopped.
Then add the chickpeas, cilantro, lemon juice, salt, tahini, water, and 2-3 tablespoons oil. Blend until smooth (this can take a minute or more).
Taste and add additional salt, olive oil, and lemon juice as needed.