What's this?  A post from the guy at Oakhurst Kitchen? And it's about manly beef stew?  Oh it's happening.
But let me just start by taking this post in the completely opposite direction of manliness.
I was watching the movie Julie & Julia
, which I love, and I was fascinated with the Boeuf Bourguignon recipe they talk so much about. I've always loved beef stew.  Who doesn't, right?  Over the years I've tried lots of beef stew recipes to see if I could find a winner, but I never really found anything that really knocked me out. Don't get me wrong–if it's beef stew I probably like it. But I always felt like beef stew could be taken up a level or two. I just didn't know how to do it.
So I started a yearly beef stew recipe contest with myself.
PIONEER BEEF STEW
I tried a great beef stew recipe that was a variation on traditional Pioneer Beef Stew, a very simple approach.  I liked how hearty and slightly dangerous something called Pioneer Beef Stew sounded.  Like it was beef stew you made from whatever your family found in the area around your house.  And maybe you weren't sure if everyone who ate it would survive the winter.  Also, Pioneer Beef Stew has an entire beer in it, which is great.
I thought maybe Pioneer Beef Stew was the winner. Then I saw Julie & Julia and started reading up on the traditional Boeuf Bourguignon recipe, and I did this. Beef stew meets Boeuf Bourguignon? That sounds good.  I'll have that.
Boeuf Bourguignon
The traditional Boeuf Bourguignon recipe in Julia Child's Mastering The Art Of French Cooking
is pretty intense.  You're browning things extremely carefully, you're pouring things through a sieve, you're skimming fat, cook this, set this aside, you're putting this part back in, if it's too thin cook it down, blahblahblah–when do we actually eat this?  But the principles and techniques are really interesting so I started making beef stew every year using some of the principles of the Boeuf Bourguignon recipe.
One thing I have to disclose to you about making beef stew this way–it is not fast. This is not a dump everything in a pot and come back three hours later kind of recipe.  There definitely is a point where you're just simmering for a long time to finish everything, but you're going to work for that part.
Choose Your Own Adventure
You in?  Okay if you said yes, hooray!  Below are a few tips for making the recipe.
WHAT KIND OF MEAT SHOULD I USE IN BEEF STEW?
I don't get fancy here. I just buy meat called Stew Beef at our farmers market.  It's already cut in cubes so that takes some work out of this.  Full disclosure: I'm not 100% sure what kind of meat stew beef is at our farmers market because it literally just says "Stew Beef" and I buy it blindly, but I'd bet all the boeuf in Bourguignon that it's Chuck.  In fact, if you can't buy something conveniently called stew beef for your beef stew, make sure to buy Chuck.
HOW DO YOU BROWN MUSHROOMS?
As with almost every step in this recipe, you can't be in a hurry here.  Give your mushrooms space.  Cook on medium heat.  How much space?  I'd leave a mushroom's width between each mushroom to ensure you get a nice brown color.  You're going to do the mushrooms in batches until you've got 'em all browned up.  Why does this work?  My thinking is that giving the mushrooms space allows the moisture to cook out of the mushroom and evaporate.  If there are other mushrooms close by they just absorb the extra liquid and don't get a chance to dehydrate enough to brown. But I could be wrong.
What Kind Of Wine Should I Cook With?
In general you always want to cook with wine that you would drink. Not "would drink" like if you ran out of alcohol at a party and you and your friends are going through the cabinets and you say, "Cooking wine?" And someone goes, "I would drink it."  The days of buying something labeled "cooking wine" off of the shelf on the cooking aisle in the grocery store are long gone. Or they should be.
Since this recipe is based on Boeuf Bourguignon, which translates to Beef Burgundy, you want to use a red Burgundy wine to cook with. That means Pinot Noir. Get a good one. And if you have any recommendations, please let me know.
HOW TO THICKEN BEEF STEW
This recipe should give you a nice thickness to your stew. If you get to the end of the process and the stew isn't thick enough, though, you can add a cornstarch mixture to thicken things up.  Depending on the amount of stew you made, try starting with two big tablespoons of cornstarch whisked and dissolved in about a half cup of cold water.  Add that mixture to the stew and it should thicken it up pretty quick.  If it doesn't get thicker, add a bit more cornstarch mixture.  Once the stew thickens, take it off the heat.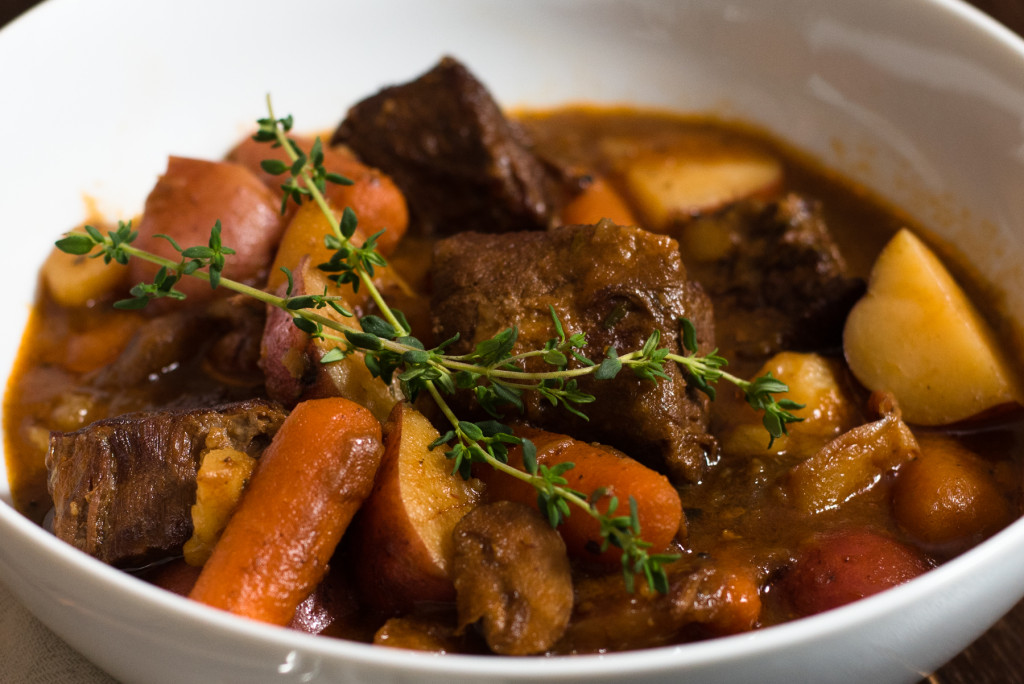 Well that was a lot to think about, I know. I hope you enjoy this beef stew recipe. We'd love to hear about your beef stew variations–let us know in the comments!
Beef Stew
Ingredients
2lbs Stew Beef (Chuck)
4 strips uncured bacon
1 large onion, chopped
2-4 cloves garlic, chopped
1 package baby portobello or white button mushrooms, sliced thick-ish
½ a bottle good Pinot Noir
3-4 cups beef stock
1lb red skin potatoes, quartered
1lb baby carrots
3-4 sprigs fresh thyme
2 fresh bay leaves
1 tbs Worcestershire sauce
2 tbs Tomato Paste
1 cup Ditalini pasta
½ cup flour
black pepper
salt
Instructions
In a large dutch oven or other pot cook the bacon slices over medium heat.
While the bacon is cooking, rinse the stew beef in a colander and then pat each piece dry. Sprinkle a bit of flour over the pieces.
When the bacon is finished cooking to the point where you'd eat it, remove the bacon from the pot. (You're done with the bacon and can save it for breakfast tomorrow!).
In a few batches, brown the stew beef in the bacon grease and remove from the pot and set the meat aside as it finishes.
In the pot with the rest of the bacon and beef grease, brown the mushrooms. Remove the browned mushrooms and put aside on a plate.
Add the chopped onion to the pot and cook 5-10 minutes until translucent, then add the garlic and cook for another 1-2 minutes.
Add a couple of glugs of red wine (about ½ cup) to the pot and turn the heat down to low. Deglaze the pot (meaning scrape the bottom of the pot so you loosen everything that has stuck to the bottom throughout the cooking process so far).
Add the meat back in and cover over with about 2 cups of beef stock and about 2 cups of red wine (use about ½ the bottle). The meat should be almost covered over with liquid but not covered completely.
Add the bay leaves, thyme, worcestershire sauce, tomato paste, about a tablespoon of salt, and a generous amount of black pepper.
Bring everything to a boil and then turn down the stove and simmer for about 1-2 hours until the meat is tender and cooked through.
If the liquid reduces too much, add more beef stock to the pot. You can substitute water here too.
Add the potatoes and carrots to the pot and cook for 30 minutes.
Add the ditalini pasta and cook until done.
If you've gotten this far and things haven't unified and turned into a lovely beef stew, cook it all a while longer. You really can't overcook this. If you want your stew a bit thicker, you can add cornstarch dissolved cold water (start with ¼ - ½ cup starch). Salt and pepper to taste.