This Summer Veggie Tortilla Stack is loaded with seasonal roasted veggies, kale, and plenty of spicy salsa and cheese. Think of it as a Mexican lasagna casserole! Think of if like this: the layers of tomato goodness are in the form of salsa and the corn tortillas are kind of like your delicious noodle base. We've also added kale for some brightness to compliment the darker roasted veggies. I'm willing to go out on a limb and say that I like my Mexican lasagna casserole more than the classic Italian version!
We can (and often do) eat the same Mexican recipes over and over, so it's nice to have a new excuse to eat a ton of salsa and tortillas. This version of the Summer Veggie Tortilla Stack is vegetarian, but the potatoes and tortillas leave you feeling satisfied, even if you typically are more a carnivore.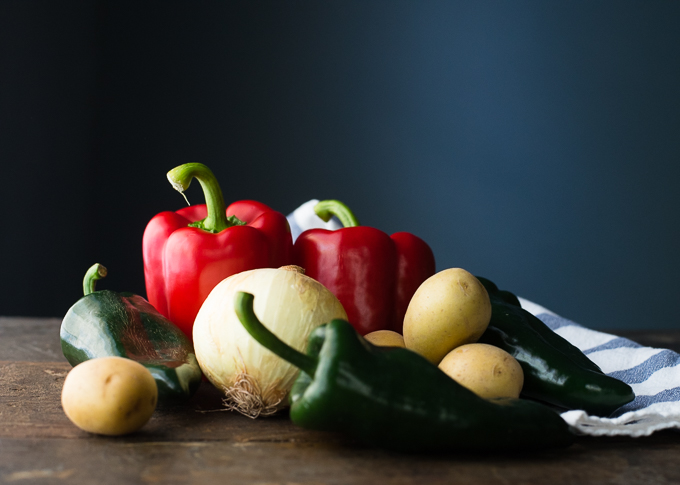 This  recipe has changed a bit, but I first fell in love with it when I made it for my birthday dinner party a few years back. My birthday is in November, so the original recipe that included fabulous fall veggies such as cauliflower and sweet potatoes was exactly what I was going for. We make this casserole year round so we just add the veggies that are in season whenever we make it.  We loved the fresh additional of corn and baby Yukon Gold potatoes in this summer version of this recipe.

While it may seem like there are a lot of steps to this recipe, the hardest part is just chopping and roasting the veggies. We work as a team and get it all done pretty quickly. Once the roasting is done, you just layer everything a few times and pop it all back in the oven to finish it up.
One of the best things about this dish is that since it's a casserole, it keeps super well. Whether you want to make one of these Summer Veggie Tortilla Stacks to eat on all week, or take to a friend who just had a baby, or serve to a group of friends, you can make it in advance because this dish seriously tastes just as good reheated.  If you are like me, you find it hard to find a casserole that you can get excited about, so hold on to this recipe and use it when you just can't do another baked ziti or lasagna.
This dish can be as spicy as you want it to be.  Definitely use the spicier pepper jack cheese, our homemade salsa, and the sliced jalapeno if you want to kick it up a bit.  If you aren't sure you can handle the heat, feel free to substitute milder cheeses and salsas and eliminate the jalapeno.
You can also count on the yogurt or sour cream to cool things off.  We're huge fans of using plain yogurt as a much healthier alternative to sour cream. If you haven't tried it, this is the perfect opportunity.  Since we already buy yogurt nearly every grocery store trip, we have our "sour cream" whenever we need it. I actually find myself calling yogurt sour cream because I've totally embraced the "yogurt is just as good as sour cream" idea.
So try this unique twist on a casserole and let us know if we've convinced you that casseroles can be exciting. And, of course, please send us any new ideas for seasonal variations that your creative little minds come up with!
Summer Veggie Tortilla Stack
Ingredients
3 poblano peppers, sliced
2 red peppers, sliced
1 large onion, sliced
14 ounces baby yukon gold potatoes, quartered
1 tsp cumin
1 tsp coriander
salt and pepper
3 tablespoons, olive oil
3 cups green salsa, divided
corn tortillas, about 18
⅓ bunch of kale, chopped
12 ounces corn, boiled and cut off the cob or frozen and defrosted
3 cups shredded pepper jack cheese
1 jalapeno pepper, sliced
plain yogurt or sour cream, for topping
Instructions
Preheat the oven to 400 degrees F.
In a large bowl, mIx the poblano peppers, red peppers, onion, and potatoes with the cumin, coriander, salt, pepper, and olive oil. Stir until veggies are coated with olive oil and spices.
Line 2 baking sheets with parchment paper. Spread the veggies onto the baking sheets in a single layer. Roast in the oven for about 30 minutes or until the veggies have started to soften and brown.
Remove roasted veggies from the oven and allow to cool slightly. Also turn the oven down to 350 degrees.
In a 9x13 casserole pan, add a cup of salsa. Spread evenly so it covers the entire bottom of the pan. Then add 6 corn tortillas to cover the salsa layer (they will overlap). Next sprinkle half of the chopped kale onto the tortillas. Then add a third of the roasted veggies, a third of the corn, and a third of the cheese.
Repeat all of Step 5.
Repeat all of Step 5 a final time, but leave out the kale this time. Top with the sliced jalapenos if you are looking for some added heat.
Cover with aluminum foil and bake for 15 minutes.
Remove the aluminum foil and finish baking for another 15 minutes or until the cheese is completed melted and starting to brown.
Serve with plain yogurt or sour cream drizzled on top.