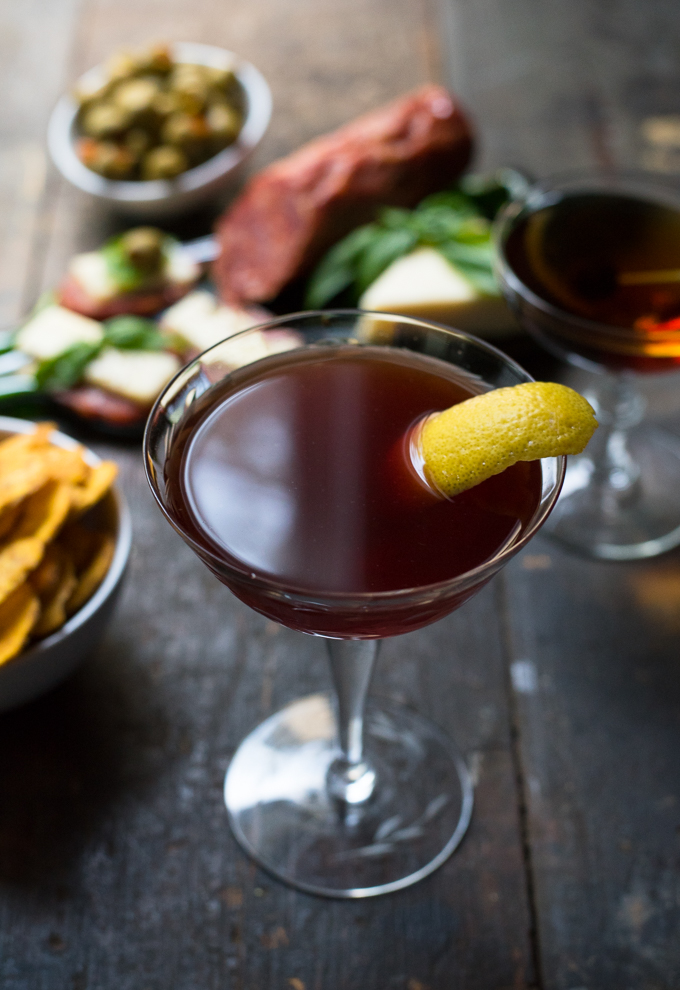 The Harvard Cocktail is another delicious cocktail featuring Carpano Antica Formula.  In contrast to the gloriously boozy Manhattan, this cocktail has a lighter, fruitier profile which makes it super drinkable!
The Harvard Cocktail has a smooth Cognac base that is complimented by sweet vermouth, fresh lemon juice, grenadine and bitters.  The grenadine gives the cocktail the gorgeous crimson color, which is what you'd expect given the name.  I'm a sucker for a drink with great color and this is certainly one of the best.
We included the Harvard Cocktail in our recent aperitivo hour because it is a complex drink that it is still refreshing and a great drink to start the evening.  We noticed that it held up well to our Hot Soppressata salami and the buttery olives. It's a great option for those warm evenings that we're still having here in Atlanta. Just cools you off and helps you wind down after a long day.  Do you have any go-to cocktails you enjoy during your own happy hour or aperitivo hour? We'd love to hear about any of favorites in the comments section!
Harvard Cocktail
Author:
Oakhurst Kitchen adapted from Bitters by Brad Thomas Parsons
Ingredients
1.5 ounces Cognac
¾ ounces Carpano Antica Formula sweet vermouth
¼ ounce lemon juice, freshly squeezed
1 teaspoon grenadine
3 dashes Angostura bitters
lemon twist, for garnish
Instructions
Add all the ingredients to a cocktail shaker.
Fill the shaker with ice and shake until well chilled.
Strain into a chilled cocktail glass and garnish with the lemon twist.